Michelle Obama Role Model Essay
Gonos
/
Michelle Obama is highly educated, smart as hell, and by many accounts as warm and gracious as she seems. She was her husband's mentor, and she seems to have a marriage where both equality and love are a given. She works tirelessly for her causes, inspiring young women and reading stories to kids along the way. She also hula hoops and does the Dougie. In short, she's everything we want to be at 49.
In October, we celebrated Hillary Clinton's 65th birthday by listing 65 of the many reasons we love Hillz. Now as Michelle Obama celebrates her 49th, we give you 49 reasons we admire her, ranging from her incredible accomplishments to her sense of humor:
1. She knows every episode of "The Brady Bunch" by heart, proving that TV trivia might serve us all well some day.
2. She kept working during the 2008 campaign. Michelle told Glamour that she scaled down her time at the office, but kept working in some capacity the entire time. "I joke that I stick with the job because it covers my insurance, but the reality is that my career has always been very important to me."
3. She was Barack's mentor. The two met in 1988, when he was a summer associate at law firm Sidley Austin. Michelle was assigned to be his summer adviser.
4. She wears dresses that the average American woman could afford. In summer 2008, Michelle appeared on "The View" wearing a Donna Ricco dress sold at White House/Black Market. Ricco told NBC News "I'm very surprised. I had no idea she would be wearing this dress." She's also been known to sport J. Crew.
5. She is one of three First Ladies to hold a graduate degree. Laura Bush has a Master's degree in Library Science from the University of Texas at Austin, Hillary Rodham Clinton has a law degree from Yale Law School, and Michelle Obama has a law degree from Harvard Law School. She graduated from HLS in 1988.
6. She had her family vet Barack before she would agree to go on a date with him. Because her father had always told her you could tell a lot about someone's character by their behavior on a basketball court, she had her brother Craig shoot hoops with Barack. According to Slate, Craig gave Barack a good report, and the future President started dating Michelle.
7. She hugged the Queen. Even though it is apparently against royal protocol, Michelle hugged Queen Elizabeth during the G-20 reception in 2009. A Buckingham Palace spokesperson told the Huffington Post, "It was a mutual and spontaneous display of affection. We don't issue instructions on not touching the queen."
8. She's an advocate for kids' health through her "Let's Move!" campaign, which tackles the issues of childhood obesity and nutrition. She told Good Housekeeping, "This is one of those issues that has no party. It has no race. It has no socioeconomic boundaries. This is about our kids."
9. She seems very much at home in her own body.New York Times journalist Jodi Kantor observes, "She has shimmied, skipped, hopscotched, hula-hooped, jumping-jacked, and potato-sack-raced her way through her tenure as first lady, using not just her position but her body to push for more exercise and better nutrition for children."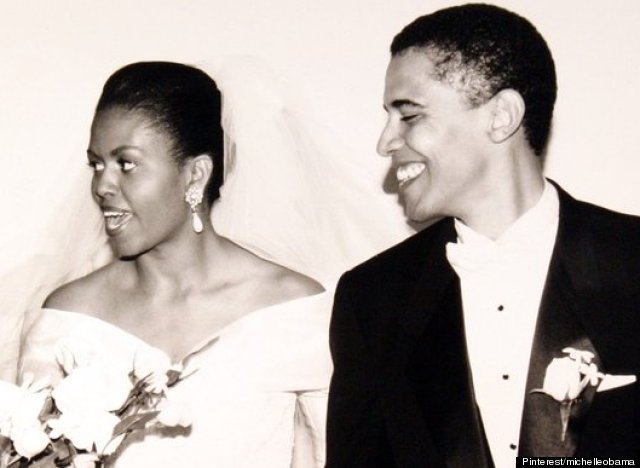 10. She isn't afraid to challenge authority -- and probably never has been. According to David Colbert, author of "Michelle Obama: An American Story," Michelle's willingness to speak out goes way back. She criticized her college professors for the way they taught French.
11. She wants to talk about race. This has been the case ever since her time at Princeton, where Michelle wrote her senior thesis on her experiences as an African-American within the university's community. She wrote, "Regardless of the circumstances underwhich I interact with whites at Princeton, it often seems as if, to them, I will always be black first and a student second." In the wake of the Trayvon Martin tragedy, Michelle called for ongoing conversations about race in the U.S.A.
12. The arms. This list wouldn't be complete without a mention of her famously toned biceps, so it's a good thing she told Barbara Walters: "I will never get sick of people talking about my toned arms." We'll keep talking about them not only because they prove she practices what she preaches about fitness, but also because she's the first First Lady whose physical strength is visible, reinforcing that you don't have to look frail to be feminine.
13. She's an equal partner in her marriage. Michelle has pushed back against the idea of FLOTUS as a bystander. She told Glamour: "People have notions of what a wife's role should be in [the First Family], and it's been a traditional one of blind adoration. My model is a little different -- I think most real marriages are."
14. She writes her own speeches. According to CBS News, FLOTUS spent over a month writing the speech that brought the house down at the 2012 DNC.
15. She recognizes the pressure women face to look ageless -- and isn't buying it. In March 2012, Michelle told Prevention: "Women are definitely under a lot of pressure, but I think it's important to remember that to look good, you have to feel good. I look at my mom at 74 and see how beautiful she looks and how wonderful she is with our daughters and with me and my husband -- and I want that for myself when I'm her age."
16. She chose her own outfit for the cover of Vogue. When she appeared on the March 2009 cover, Michelle insisted on wearing her own dress.
17. Her reasons for looking after herself sound a lot like ours might. In an interview, held at the White House in February 2009, Michelle stated: "I began to prioritize exercise because I realized that my happiness is tied to how I feel about myself. I want my girls to see a mother who takes care of herself."
18. She took her baby to a job interview. When asked to interview for an executive position as a community affairs director at the University of Chicago Hospitals, Michelle found herself in a bind: she was at home on maternity leave and still breastfeeding newborn Sasha. She told People magazine: "I didn't have a babysitter. So I went in there with the stroller and did the interview. And Sasha slept through it, thank goodness." Michelle got the job.
19. She's down-to-earth. Michelle didn't bat an eyelid when she was challenged to a push-up competition on the "Ellen Degeneres Show," and was happy to compete despite later suggestions that her behavior was unbecoming of a First Lady. 20. She lets the dog sleep in her bed when the President is gone. Michelle admitted to Us Weekly that Bo, the family's Portuguese Water Dog and something of a celebrity in his own right, takes her husband's place in bed when Barack is traveling. In March 2012, she told Letterman that the much-loved hound is "[T]he smartest dog on the planet."
21. She's a fan of pillow forts. When Oprah asked Michelle about her plans for redecorating the White House, Michelle responded: "[Y]ou've got to be able to make a fort with the sofa pillows! Everything must be fort-worthy."
22. She keeps Barack in check. Michelle offered her husband some tender advice just before he went onstage to give the keynote address at the 2004 Democratic National Convention: "Just don't screw it up, buddy."
23. "We're bacon people." Enough said.
24. She has great taste in music. She told Glamour that staples on her iPod include Robin Thicke, Jill Scott, and India.Arie. She added, "[I] love, love, love old school Lauryn Hill. I love good women who can sing, you know?"
25. She doesn't retaliate against people who badmouth her. When Larry King asked about her opinion of Sarah Palin -- an outspoken critic of both Obamas -- Michelle responded that she tries not to make a negative opinion of people she hasn't had any "substantive interaction with." Classy.
26. She somehow finds time for nights out with her girlfriends. The New York Times spotted FLOTUS enjoying dinner with a few friends, Secret Service detail in tow.
27. She's more popular than her husband. According to a May 2012 Gallup poll, 66 percent of Americans have a favorable view of Michelle. The poll showed that only 55 percent of Americans would say the same for Barack.
28. She doesn't like pantyhose. In 2008, she admitted on "The View:" I stopped wearing panty hose a long time ago, because it was painful and they'd always rip. And I'm 5'11,'' so I'm tall, nothing fits...Put 'em on, rip 'em..it's inconvenient." Amen.
29. Her commitment to military families. She and Jill Biden are behind the national initiative Joining Forces, which aims to provide military families with much-needed support and opportunities. Michelle told NPR, "There is no American that isn't grateful for what these men and women do." 30. Her guilty pleasure -- french fries.
31. She likes to sleep. The First Lady finds it difficult to stay awake past 9 o'clock, which means she's just like us, right?
32. She daydreams about incredibly normal things. On "Jimmy Kimmel Live," Michelle revealed that if she weren't First Lady: "I would walk out of the door of the White House like a regular person, walk down the street, go to the drug store, go to CVS, go in there, go shop. I'd go buy my toiletries."
33. She tries not to read news about herself and her family, which is probably much harder than it sounds. Michelle told Mike Huckabee in 2010, "I try to keep home kind of a news-free zone... when you work above the shop, you can't just bring work home."
34. That time she taught middle schoolers how to Dougie. As part of her "Let's Move!" campaign, the First Lady showed off her dance moves at Alice Deal Middle School. She also tried to teach Dr. Oz some of her signature moves during a September 2012 appearance on his show.
35. She shops at Target. The First Lady has attempted to keep some sense of normalcy in her life by taking incognito shopping trips to Target and Petco. Michelle also wore a Target Merona dress on the family's recent Hawaii vacation.
36. She knows what it's like to be a working mom and is happy to talk about her experiences trying to make it work. In 2008, she told Ladies Home Journal: "Finding balance has been the struggle of my life and my marriage, in being a woman, being a professional, being a mother. And Barack has to find that balance, too, as part of the family. What women have the power to do, through our own experiences, is to push that balance out into the culture. If people are happier, and they're more engaged, and they have jobs they can value that allow them to respect and value their homes, that makes the home life stronger."
37. Her strong sartorial choices. In case we haven't made that clear here, check out HuffPost Style's roundup of her 49 best outfits ever.
38. She wants to jazz up Barack's wardrobe. In 2011, Michelle told the "Today" show: "I wish that he would focus more on a different color suit, a new shirt. Sasha and I and Malia, we cheer when he puts on a bright-colored shirt."
39. She isn't perfect, and she's fine with that. For example, she admits to being impatient and unsure of herself at times, which makes the rest of us feel a little less lame. When asked about adapting to her new life, Michelle told Good Housekeeping: "[I'm] continuing to tell myself to be patient. It's like standing up straight. Just be patient. Things take time."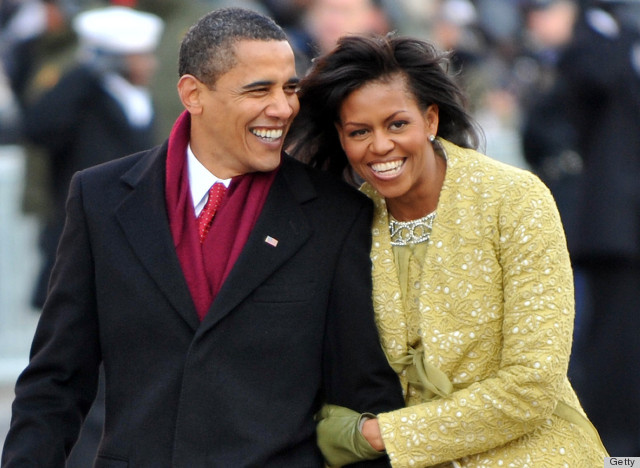 40. She wants to talk about the tough stuff. Michelle doesn't shy away from talking about divisive or controversial issues like childhood obesity and women's rights, and encourages others to join in the conversation full-time. During a spring 2012 interview on NPR, she told Michel Martin, "Talking is good. Conversations have to be forever. You know, they can't come in spits and starts when there's an incident. "
41. She doesn't let criticism get her down, which makes her a great role model for women and young girls. She told Marie Claire magazine: "One of the lessons that I grew up with was to always stay true to yourself and never let what somebody else says distract you from your goals. And so when I hear about negative and false attacks, I really don't invest any energy in them, because I know who I am."
42. She recognizes and encourages female leaders. Alongside Hillary Clinton, Michelle presented the 2012 International Women of Courage Awards, which recognize "women around the world who have shown leadership, courage, resourcefulness and willingness to sacrifice for others."
43. She tries to keep her daughters down-to-earth. In almost every interview, the First Lady stresses how important it is that her girls grow up happy, healthy and well-adjusted. The girls make their own beds, aren't suposed to watch TV on weeknights and are in charge of walking Bo.
44. She continues to describe herself "Mom-in-Chief" -- despite the controversy that title ignites. At the 2012 DNC, Michelle said: "At the end of the day, my most important title is still mom-in-chief" -- a line that confused and disappointed many listeners. Whether or not the First Lady has "mom-ified" herself, she stuck to a concept she originated and believes in even though it's unpopular. That takes self-confidence and conviction.
45. She has a sweet tooth. We do not understand how some humans don't like dessert, so we were relieved when Michelle told Oprah, ""Hey, I love pie. I love a good candy bar." This is a woman we can work with.
46. She believes in the power of female friendship. At the National Mentoring Summit in 2011, she said: "We should always have three friends in our lives -- one who walks ahead who we look up to and follow; one who walks beside us, who is with us every step of our journey; and then, one who we reach back for and bring along after we've cleared the way."
47. Her hugs. The First Lady is famous for her tendency to hug everyone she meets (see the incident with a certain monarch above). The New York Times quoted a former White House photographer as saying: "Sometimes her staff will roll their eyes, like O.K., here we go, because if there are 50 people who need to be hugged, she will hug them all." Though sometimes a hug just isn't enough -- wrestler Elena Pirozhkova famously lifted Michelle up during the First Lady's visit to the U.S. team's Olympic training center.
48. She wants young girls to break through the glass ceiling. The First Lady hosted a White House dinner to support mentoring programs for young girls, where she said: "You don't always see was what it took for many of us to get to where we are today. You don't always see the thousands of hours that were spent studying or practicing or rehearsing, the years spent working for that promotion, the hammers used to break glass ceilings. All of them –- every last one of them -– had someone in their lives who took the time to encourage them and to inspire them. None of us are here on our own."
49. She believes in women's power to affect the bigger picture. She said: "Changing the big picture takes time... and the best things to do is focus on the things that we can make in our lives if we're doing all that. That becomes the collage of real change."
CORRECTION: This post previously stated that Michelle Obama is one of three First Ladies to hold a master's degree. Michelle Obama and Hillary Clinton each hold a graduate degree that is a J.D. (Juris Doctorate), not a master's degree.

Michelle LaVaughn Robinson was born on January 17, 1964, in Chicago, Illinois, to parents Marian and Fraser Robinson. Although Fraser's modest pay as a city-pump operator led to cramped living in their South Shore bungalow, the Robinsons were a close-knit family, with Michelle and older brother Craig pushed to excel in school. Both children skipped the second grade, and Michelle was later chosen for a gifted-student program that enabled her to take French and advanced biology courses.
Making the lengthy daily trip to attend Whitney M. Young Magnet High School, Michelle became student council treasurer and a member of the National Honor Society before graduating as class salutatorian in 1981. She then followed her brother to Princeton University, where she created a reading program for the children of the school's manual laborers. A sociology major with a minor in African-American studies, she explored the connections between the school's black alumni and their communities in her senior thesis, graduating cum laude in 1985.
After earning her J.D. from Harvard Law School in 1988, Michelle joined the Chicago office of the law firm Sidley Austin as a junior associate specializing in marketing and intellectual property. Assigned to mentor a summer intern named Barack Obama, she deflected his initial romantic advancements before they began dating. They were engaged within two years, and married at the Trinity United Church of Christ on October 3, 1992.
Michelle left corporate law in 1991 to pursue a career in public service, enabling her to fulfill a personal passion and create networking opportunities that would benefit her husband's future political career. Initially an assistant to Chicago mayor Richard Daley, she soon became the city's assistant commissioner of planning and development. In 1993, she was named executive director for the Chicago branch of Public Allies, a leadership-training program for young adults. Moving on to the University of Chicago as associate dean of student services, she developed the school's first community-service program.
When Obama decided to run for Illinois state senator in 1996, Michelle proved a disciplined campaign aide by canvassing for signatures and throwing fundraising parties. However, their victory presented the family with new challenges; following the births of daughters Malia (1998) and Sasha (2001), Michelle often had to juggle the demands of work and child-rearing alone with her husband tending to business in the state capital of Springfield.
Successful despite the difficulties, Michelle was named executive director of community relations and external affairs for the University of Chicago Hospitals in 2002. She was promoted to vice president after three years, and served on the boards of the Chicago Council on Global Affairs and the University of Chicago Laboratory Schools, but eventually scaled back her work hours and commitments to support Obama's entry into the U.S. presidential race.
Initially criticized for her candor, Michelle soon proved an asset on the campaign trail with her knack for delivering relatable stories about her family. In addition to becoming the first African-American first lady upon Obama's Election Day victory in 2008, she became the third with a post-graduate degree.
Michelle sought to tie her own agendas to her husband's larger legislative goals, notably targeting the epidemic of childhood obesity while the Affordable Care Act was being created. In 2009, she worked with local elementary school students to plant a 1,100-square-foot vegetable garden on the South Lawn of the White House. The following year she launched the Let's Move! initiative to promote healthy eating and physical activity.
In 2011, Michelle co-founded the Joining Forces program to expand educational and employment options for veterans and to raise awareness about the difficulties plaguing military families. After helping Obama win a second term in office, she formed the Reach Higher initiative to inspire young people to explore higher education and career-development opportunities.
Continuing the family theme of her campaign speeches, the first lady stressed the importance of remaining a diligent parent and brought her mother to live with her in the White House. She was also recognized for an ability to connect to younger generations by remaining attuned to popular culture. Embracing the use of social media, she encouraged fans to follow her progress on her Twitter, Facebook and Instagram accounts, and proved willing to bring her messages to audiences by appearing in humorous sketches online and on television.

The president and 24 other members of his administration weigh in on their proudest moments, their regrets and the belief that they left it all on the field.